Calling female snowmobilers of all ages and abilities. Join us for the annual BRVSC Ladies Ride on
Ladies Ride and Beginners clinic – Saturday, February 25th – 8:30 AM check-in, 9:00 AM beginners clinic, 10:00 AM ride start, 12:00 PM raffle.
This is a day to celebrate the ladies of NH snowmobiling.
Tell your other half to plan a day with their buddies (or just leave 'em at home).
The Ladies Ride is a 1 to 2-hour trail ride on Baker River trails and surrounding club systems. The ride caters to all skill levels by splitting into multiple groups, allowing each group to travel at an appropriate pace for the riders in it. That means beginners feel comfortable at a slower pace, and you ladies who want to haul will have some fun too.
We'll all meet for a photo opp at one of the best scenic views Central NH snowmobiling has to offer, then head back to the BRVSC Clubhouse for more fun.
BEGINNERS CLINIC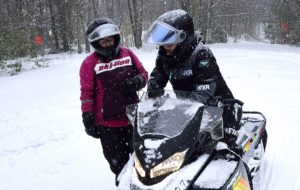 Prior to the ride, ladies who need a little more instruction (or just a confidence boost) can work with Baker River volunteers in a brief clinic. We'll set up an open area where you can get comfortable on your sled before hitting the public trails, and work with you on basic safety and trail etiquette.
For questions about the clinic email
[email protected]
. Our goal is for every lady sledder to feel confident enough to join us for the ride. Let us help you get there!
WIN BIG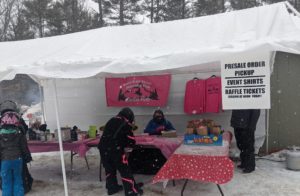 Generous donors from inside and outside of the snowmobile club provide items for our raffle table every year. Previous prizes include:
DSG Outerwear Malea Softshell Jacket (a $99 value!)
DSG Outerwear Sledding Favorite Season T-Shirt
Assorted DSG Outerwear beanies, ballcaps, gloves, neck warmers, and other accessories
Chocolate lovers bundle
Lottery ticket bundle
NH Northwoods Law bundle
EAT UP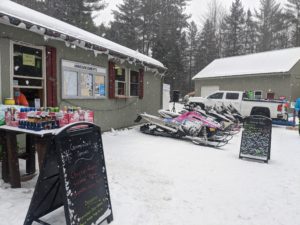 Grump's Grill inside the BRVSC Clubhouse has food available for purchase between 8 and 4pm. Grab breakfast when you arrive, and stay for lunch after the ride.
MEDIA